Flipkart Super Coin Mobile Recharge 2023: In this blog post, you get to know how to recharge your mobile number using Flipkart Supercoins and other uses of it. Every time you purchase something from Flipkart you earn some Flipkart super coins. You might have thought about what are the Flipkart super coins for. Well, the super coins are of many uses and can also be applied as a discount during the time of payment. Here in this blog am going to explain to you how to recharge your phone number with the help of Flipkart super coins.
You can recharge any network including Reliance Jio, Airtel, BSNL, and Vodafone Idea (Vi) using super coins. The Flipkart super coin also supports DTH Recharge, Bill Payment, Broadband, LPG Booking, etc. Flipkart Plus members can also redeem exclusive rewards available in the rewards section.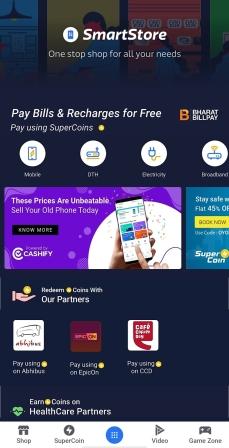 What is A Flipkart Supercoin
Flipkart Super coins is a type of system that rewards its customers for every purchase made on Flipkart. Flipkart Supercoins can be used to redeem exciting rewards like mobile recharge vouchers, and discounts while purchasing something from Flipkart, etc.
How To Earn Flipkart Super Coins
A Flipkart plus member earns 4 Supercoins for every rupee 100 spent and a maximum of 100 super coins per order while the non-plus member earns 2 super coins for every rupee 100 spent and a maximum of 50 super coins per order. You can also play games to earn more Supercoins available in the Flipkart app.
How To Recharge Mobile Number Using Flipkart Supercoins
Launch the Flipkart mobile app or visit the official website.
First, Download the Flipkart mobile app from Google Play Store or App Store.
Create a new account on the Flipkart app.
If old user, log in to your Flipkart account via your registered mobile number or email id.
Tap on the middle button located at the bottom of the app.
Now, click on the Smart store option.
Go for "Mobile Recharge".
Enter the 10-digit mobile number that you want to recharge via Flipkart Super coins.
Select your SIM network type: Prepaid/Postpaid
Choose your SIM operator following your location.
Enter the recharge amount or select the suitable plan from the list.
After that tap on the Recharge now button that will lead you to the confirmation page, if you have any promo code then you can apply or else proceed with payment.
Enter the OTP received on your registered mobile number.
After that, you will be directed to the payment page where you need to make the balance payment.
After completing the payment process you will reach the final page where you can see that your recharge using Flipkart super coins has been successfully done.
Till now you must have learned how to recharge mobile numbers using Flipkart Super coins. Be on the page to know more details about Flipkart Super Coins.
With this, we come to the end of this blog post. Hope you have found all your solutions like how to recharge mobile numbers using Flipkart Super coins, how to earn super coins etc, read my other articles related to credit cards.
How to recharge with supercoins in Flipkart?
You can recharge with supercoins in Flipkart by following the steps given in this article to use super coins for recharging purposes.
Can I buy Flipkart Super Coins?
No, we cannot buy Flipkart super coins. It can only be earned by purchasing products from the Flipkart app or site.
What Is The Validity Of Super Coins?
Flipkart Supercoins are valid only for 1 year. After 1 year they become useless and cannot be used.
What Is The Value Of 1 Super Coin In Rupee?
The value of 1 Super coin in rupee is rupee 1. You can apply super coins while purchasing anything from Flipkart and the product amount gets reduced by the number of super coins applied.
Can I Convert Flipkart Supercoins Into Cash?
No, It is not possible to convert Flipkart Supercoins into cash. There are no such tricks or hacks for converting Flipkart Supercoins to cash.
Is Recharging Mobile Number Using Flipkart Super Coins a long process
yes, recharging a mobile number using Flipkart Super coins is a time taking process as you have to follow many steps.
Can We Transfer Flipkart Supercoins To Another Account?
No, the Flipkart super coins cannot be transferred or gifted to another account. One can only redeem their earned super coins.